Joshua Render
---
My Blog: Agile-Mercurial.com - The art and science of handling rapid and unpredictable changes
A Kanban Approach
Work Experience
Primary Work Experience
+
PROJECT MANAGER / BUSINESS ANALYST - WOLTERS KLUWER
PROJECT MANAGER / BUSINESS ANALYST - WOLTERS KLUWER
Dates: August 2018 to Present
Work Overview:
General Description of Role:

Serve as a project manager for IT migration projects

General Duties:


Developed custom reporting templates using SharePoint and Power BI
Automated workflows and reporting using SharePoint, Access, and Excel VBA
Led projects to migrate onsite servers to AWS and Azure cloud environments
+
OPERATIONS ANALYST - UNITED HEALTHCARE (UHG/UHC)
OPERATIONS ANALYST - UNITED HEALTHCARE (UHG/UHC)
Dates: August 2016 to August 2018
Work Overview:
General Description of Role:

My job role at United Healthcare focuses on learning operational and business processes from the people who carry out the tasks on a daily basis and discussing the problems they believe they have or problems identified while watching the process. Once a problem is fully identified, we discuss some possible solutions. These solutions may not always be based on implementing large changes or new technology, although that is my primary work area.

Project Determination and Examples:

solutions to quality problems may be solved in several ways. There could be a need for increased or better training. In some instances, the source of truth document is not always clear on what should be done. It may involve creating an application to try and catch or even correct quality issues. Sometimes an automation application is warranted that takes over part of the job of those who carry out the tasks.

Streamlining processes may require merging of duties, cutting out extra steps, or creating automation applications to assist. New or improved applications may even be needed.

These are rough generic examples; a strong solution usually requires more details about the process and surrounding events. Determining the best way forward is usually about cost vs. expected savings. I will then work to create various estimates on solutions and compare them to expected savings or the expected lifetime of the implemented solution. (*This usually only applies to larger changes, we have had several smaller projects come through where we immediately recognized that the solution could be developed in a few days. Our more rigid controls are typically only put in place for longer expected duration projects.)

Sometimes cost isn't a primary factor and it becomes about just finding the best way to reduce errors or time spent on the activity. Time saved or error reduction does not always directly translate to saving money if the best way to improve a process is more expensive and fails basic cost to benefit analysis; these cases are usually decided based on different, and harder to quantify in terms of money, indicators. Customer satisfaction or general perception of customers is one such indicator where direct costs may not be a primary consideration.

An example of this would be a collection of Excel documents that served several purposes, such as a source of truth document for different departments and a document for the customers. The Excel files (over 2,000 of them), contained information relating to company healthcare elections and was used as a form and database. (*This hinders the automation potential) The Excel form would be filled in, often with the corporate customer on the phone. The Excel file is the form, the storage location of the information, the source of truth, and the customer copy. The process was ugly and not streamlined.

As I write this I am finishing up the initiative I pushed for to clean this process up. I argued my point to get approval for this project mostly from a non-monetary perspective. The expectation is not that it will not directly lead to saving money, but that it may lead a better perception of the company and increased quality (which should help lead to retained customers). An additional argument was the potential to increase automation. The end result should improve the money situation, but in a more indirect way.

These Excel files are now being transitioned to a database environment, accessed with an application built as part of the project. The output that the customer receives will soon be an application generated PDF file.

Additional Work Examples:


Developed VBA applications in Word, Excel, Access, and PowerPoint to reduce the reliance on tedious and time-consuming tasks down to seconds
Led development efforts for robotic process automation applications for several processes using OpenSpan, UiPath, or manually scripted solutions
Led development of web applications to replace or enhance processes
Led development of quality tools that compared the source of truth to final product
General Duties:
Performed as a technical project manager over projects for process automation
Governed portfolio of projects in different phases and advocated technology and process related improvement efforts for completed projects
Acted as a liaison between various stakeholders; involved in explaining technology concepts to managers
Saved thousands of manual labor hours that resulted in a decrease in overtime
Provided automated solutions to increase quality, decrease costs, and improve productivity
Developed project plans and associated project documentation
Oversaw multiple projects simultaneously as part of a larger program devoted to improving business processes; collectively the results saved over 87% of manual processing time
Worked with other teams to determine automation feasibility (technologically possible, costs advantage, productivity improvements, quality)
Analyzed business processes to find areas for improvement
Delivered software-based solutions tailored to end user needs and business specifications
Built and/or oversee the building of intricate Word and Excel VBA documents
Participated on SharePoint development projects to streamline or update internal documentation repositories (SharePoint upgrade projects)
Worked with MS SQL databases and various programming languages to accomplish tasks
Served as a technical consultant within various departments; acted as a liaison between staff and IT department
Discovered areas that could benefit from technology improvements – then implemented improvements in those areas
Awards Won:
Diamond: Collaboration (May 2018)
Diamond: Collaboration (January 2018)
Nomination: Service Heros (December 2017)
Aquamarine: Performance (November 2017)
November Performance Award Winner (November 2017)
Aquamarine: Performance (September 2017)
Diamond: Collaboration (August 2017)
Opal: Innovation (June 2017)
Diamond: Innovation (February 2017)
Aquamarine: Collaboration (October 2016)
Opal: Innovation (September 2016)
+
SOFTWARE ENGINEER - DEFELSKO
SOFTWARE ENGINEER - DEFELSKO
Dates: October 2015 to July 2016
Reason For Leaving:
Due to the improvements I made in their web application and internal tools I implemented, my job time was limited. The one hour commute time and the offering of a higher level position more in line with my previous job at Unisys made the choice to leave easier. My major project was completed, as well as several smaller projects.
Work Overview:
General Description of Role:

I was hired to serve as the main administrator responsible for the PosiSoft.net web application. I performed several additional roles, including administration over the Amazon Web Services environment, database administrator, and internal application development.

My Contribution:

I redesigned the PosiSoft.net web application. After the launch of the redesign, the utilization of the application increased substantially. Customer service calls regarding the web application were also reduced. I expanded on the potential of the database to give us insight in to customer behavior and actions while using the web application.

I pushed for TLS certificates to be added to the login of PosiSoft.net, I was unsuccessful in this goal. I also pushed to have the test site restricted behind VPN, I was unsuccessful here as well.

I developed several internal tools, including a quality certificate tool and a tool to aid in customer service.

General Duties:


Took the lead on developing a responsive web application; which more than doubled utilization and decreased service calls by 3/4
Developed internal business software that allowed for customized creation of quality certificates
Created database reporting tools that granted insight on customer interactions with company web applications; granting insight in to the voice of the customer
Suggested and implemented shared code between applications regarding PDF reporting tools; reducing required code maintenance and development
Served in several roles simultaneously, gaining a large variety of experiences
Upgraded the Posisoft server environment from Ubuntu 10.04 to Ubuntu 14.04 LTS (Linux)
Responsible for the Amazon Web Services server environment and MySQL databases
Developed new (and improved existing) tools related to quality auditing and tool tracking
Troubleshoot and solve issues related to the PosiSoft server environment, AWS, and any other issues as needed
Served as PHP, JavaScript, HTML, and CSS developer
Designed the graphical user interface for the internal customer area for PosiSoft.net web application
Developed an internal tool that allowed them to customize and create the certificate of quality for manufactured tools without the need to manually code each time (as was previously done)
Implemented improvements to their database to reduce redundancy and allow for Chinese/Japanese character translation (from collation Latin character default to Unicode)
Created documentation that did not exist previously for older software tools and created documentation for the new tools I developed. This helped reduce the time spent on the customer service calls we did get and should reduce future maintenance and upgrade times
+
AUTOMATION ANALYST - UNISYS
AUTOMATION ANALYST PROJECT LEAD - UNISYS

Dates: August 2014 to October 2015

Reason For Leaving:

I was part of a large group of people who were laid off. I was in the middle of training for a Security+ and Server+ certification sponsored by Unisys when I received the phone call.

Work Overview:

General Description of Role (From the Job Description):

The Automation Analyst will lead global and regional technical teams implementing Enterprise System Management solutions using Nagios, BEM, BPPM and other tools to achieve global cost saving and service improvement objectives across internal and external clients in all regions. Key responsibilities / outcomes:

Define approaches and provide extensive business and/or technical expertise to attain objectives.
Identify and perform a variety of independent analysis and problem resolution assignments.
Measure cost savings and service level improvements achieved by Automation projects.
Provide project and support status information to client and Unisys management.
Implement, configure and support Enterprise System Management tools.
Prepare, approve and coordinate technical documentation and ensure that technical and customer documentation is current and complete.
Analyze and solve problems crossing multiple tools, platforms and organizations.
Analyze event, incident, problem, request and change histories to identify opportunities for new automation, event correlation, event filtering and tuning.
Proactively suggest process and tool enhancements using Enterprise System Management tools.
Suggest, develop and conduct training sessions for other analysts and for clients.

My Contribution:

I worked on building the U.S. Restricted Environment for U.S. Clients that did not want or could not have their data transferred offshore. I also worked on government contracts and received Secret Security Clearance for that purpose. I developed Perl scripts to aid in data migration activities and led the creation of automation applications that improved the quality of Unisys services to customers.

General Duties:


Directed an offshore team that brought enterprise services to life; delivering IT solutions efficiently
Led offshore and onshore personnel on various Agile/Scrum projects automating back-end processes
Co-Led the team creating the U.S. restricted environment for U.S customers
Developed custom scripts to automate work intensive tasks for Windows, Solaris, and RHEL servers
Developed project plans and associated project documentation
Collaborated with international teams on BladeLogic, Nagios, and SolarWinds related issues in non-US restricted server environments
Managed offshore and onshore personnel on various projects that worked to automate back-end behind the scene processes
Engaged in continuous improvement activities to enhance back end processes and customer software implementations
Developed numerous Perl scripts in Unix environments
Created scripts that aided in data migration efforts to new servers/environments decreasing a reliance on manual effort converting items to different formats
Developed documentation that aided future migration projects similar to the U.S. restricted environment project
Received Secret Security clearance from the U.S government (2015) and participated on U.S. government projects
+
APPLICATION ANALYST - INTERNATIONAL BUSINESS MACHINES(IBM)
APPLICATION ANALYST - INTERNATIONAL BUSINESS MACHINES(IBM)
Dates: January 2013 to February 2014
Reason For Leaving:
I was a long-term supplemental employee with a 1 - 3 year expected term.
Work Overview:
General Description of Role:

I was a long term supplemental employee hired with the purpose of working on any project I had the skills to work on. I was a Business Analyst, an Application Manager, and Project Team Leader as my primary roles

General Duties:


Actively participated with several Agile projects in different roles depending on experience and need
Gained valuable work experience in database administration for Oracle database systems, Java application development, and custom automated script development
Operated as a project team leader over software development projects
Developed automated scripts that alerted staff to issues within production environments; reducing response times
Supported IBM client objectives through use of Oracle and MySQL database skills
Worked on numerous project teams as an IBM Long Term Supplemental employee
Worked on client teams to plan and set project goals and work towards the desired results
Led a team that oversaw application installations and updates
Developed applications and scripts in VBScript, C#, Java, and others
Assisted on and documented a large ERP software upgrade project
Participated in educational courses on Java, Android development, and Maximo development
Administrator over a large application testing and production environment
Developed automated scripts that alerted staff to issues within production environments, reducing response time to incidences
Part of a team that tracked down the issue in a major incident and actively contributed to its resolution
Successfully completed complex projects by aiding in goal development, creating clear objectives, and gaining support from the stakeholders
+
ENGINEERING - INTERNATIONAL AUTOMOTIVE COMPONENTS(IAC)
ENGINEERING - INTERNATIONAL AUTOMOTIVE COMPONENTS(IAC)
Dates: February 2003 to January 2013
Reason For Leaving:
I received my Bachelor's degree the prior year and had already started work on a Master's degree. The opportunity to be promoted was presented and discussed, but I decided to expand my world a little bit and took a temporary position in another company.

To sum it up - I was a little tired of being covered in grease and oil everyday and wanted a change.
Work Overview:
General Duties:


Active in Lean Six Sigma projects that contributed to a reduction of waste
Built and programmed custom automated machinery to reduce manufactured part defects and cycle times
Programmable Logic Controller (PLC) and machine robotic programming experience
Numerous promotions earned over the course of 10 years
Kaizen/Lean Six Sigma project work aimed at increasing part quality and reducing waste (Continuous Improvement)
Troubleshoot and resolve issues related to machinery
Precision plastic mold repair, electrical systems repair, and plastic injection mold machinery processing
I started as a press operator, receiving my first promotion within 3 months. After 2 years I was moved into the maintenance and engineering department
Won SMED(Single Minute Exchange of Die) award
Learned to program robots, PLC's using Ladder Logic, and Applications while on the job
Developed custom tools that increased press operator efficiency allowing us to shave time off of part production
Traveled to other IAC plants to exchange ideas on how to improve efficiency and quality
Contributions to Lean Six Sigma projects were vital in achieving the 99.9997% quality goals
Built custom made physical robots that improved part production times and increased manufactured part quality
Highlights
Directed the development of automated/software solutions that resulted in saving thousands of manual labor hoursPushed for, led efforts for, and built a database for a large Excel migration project Began and managed the development of a customer facing responsive web application that resulted in a doubling of utilization and ¾ reduction in service calls Implemented shared code between applications; reducing code maintenance and programming time Scientific research conducted on regional area employment satisfaction rates as part of Master's degree attainment: Education Co-led the team in the creation of the "U.S. Restricted environment" intended to be for clients that did not want or could not have data stored offshore Established automated scripts to alert staff to issues within server environments; improving incident response timeTook an active role in continuous improvement and Kaizen projects; attaining the 99.9997% quality goal achievement
Additional Work Experience
CUSTEX - Contracter for small startup (part-time remote)
Dates: August 2016 to December 2016
Work Overview:
• Fuel and laravel PHP development
• Front-end web application development
• Database, back-end, front-end - development *CSS, HTML, JavaScript, PHP
• Used GitHub version tracking, code collaboration

+
SELF EMPLOYED - (DOING BUSINESS AS) ADRYELLEHAYLEN
SELF EMPLOYED - (DOING BUSINESS AS) ADRYELLEHAYLEN
Dates: February 2012 to November 2012
Work Overview:
• Owned and operated my own web based business
• Developed the website using OpenCart open source software
• Worked with customers to fulfill orders
• Managed the MySQL Database

+
C# DEVELOPER/INTERNSHIP - BAKER COLLEGE
C# DEVELOPER/INTERNSHIP - BAKER COLLEGE
Dates: July 2012 to December 2012
Work Overview:
• Worked to develop an application that integrated with Microsoft Visio to build Use Case diagrams and database plans
• Utilized C# and .NET libraries

Highlights
Learned some PHP frameworks and new web development methodsLearned OpenSource software developments, Slack, Git repositories, and how startups functionLearned the process of creating a business and how to manage and run a business Actually sold some stuffGained experience I would not be likely to gain from a traditional jobFurther enhanced my experience building and maintaining databases
Why Do Projects Fail?
A high-level overview of what makes a project fail and what can be done to fix an at-risk project.
Education
Master of Science in Administration
2015
Central Michigan University
Mount Pleasant, Michigan
+
CENTRAL MICHIGAN UNIVERSITY
Classes and Grades
Course ID - Title
Grade
Credits
Year & Session
CPS 603 - Computer Info Systems
A-
3
2013 Spring
MSA 600 - Foundation Research Method in Admin
A
3
2013 Spring
CPS 510 - Software Systems Engineering
A-
3
2013 Fall
MSA 602 - Financial Analysis, Planning & Control
A
3
2013 Fall
MSA 601 - Organizational Dynamics & Human Behavior
A
3
2013 Fall
BIS 634 - Seminar in Information Systems Issues
A
3
2013 Fall
MSA 604 - Admin, Globalization, & Multicultural
A-
3
2014 Spring
MSA 603 - Strategic Planning for the Admin
A
3
2014 Spring
MGT 643 - Human Resource Management
B+
3
2014 Fall
PSC 514 - American Public Policy Making
A
3
2014 Fall
MSA 699 - Applied Research Project in Admin
A
3
2015 Spring
CPS 612 - Software Project Mgmt
A
3
2015 Spring
Cumulative GPA: 3.86
Concentration: Information Resource Management
GPA: 3.86
Description:
The program offers insight into human and organizational relationships; develops skills in oral and written communication; enhances the capacity for sound analytic judgment; and encourages the ability to see the "big picture" as it relates to an organization and its environment. Coursework focuses on applied action grounded in theory and embraces the fundamental educational principles applicable to administrative issues in the private, public, and nonprofit sectors, and stresses the ethical responsibilities of administrators.
Scientific Research
(Master Capstone Project)
Description:
The graduate thesis paper I submitted to complete my graduate work and earn my degree. It is a study on job satisfaction of employees within the Adirondack region of New York and the Central Michigan Lower Peninsula region.

On the right, the "Job Satisfaction Impact Groups" and their overlapping areas of interaction.
Bachelor of Computer Information Systems
2012
Baker College
Flint, Michigan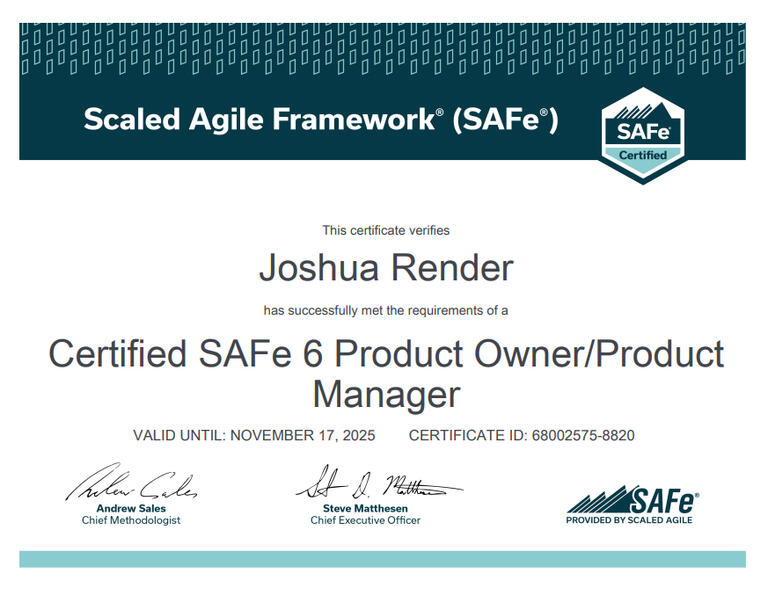 Concentration: Computer Information Systems
GPA: 3.89
Honors: Magna Cum Laude
Description:
Learn how technology can be used to improve all aspects of business operations, from teamwork and leadership to project management and customer service. As a graduate, you'll have the management skills and technical understanding to be able to improve your job performance and develop new opportunities.
NON-TRADITIONAL EDUCATION
---
Agile Courses
Description:
Various classes and video training on Agile and different Agile methodologies and frameworks
Courses:
Python Machine Learning
Description:
This Machine Learning with Python course dives into the basics of machine learning using an approachable, and well-known, programming language. You'll learn about Supervised vs Unsupervised Learning, look into how Statistical Modeling relates to Machine Learning, and do a comparison of each. Look at real-life examples of Machine learning and how it affects society in ways you may not have guessed!
Courses:
Python and Data Science
Description:
Python has become one of the top languages used not only by developers, but also by data scientists, data engineers, and researchers alike. It lends itself well to creating applications and analyzing big data.
Courses:
Statistics 101
Description:
Congratulations on stepping into the world of Statistics! As you know, this course is for beginners in statistics, so whether you're looking to learn more about statistics in general, about how statistics can be used to analyze data, or even just to brush up on your statistical knowledge, you're in the right place. In fact, the motto for this particular course is:
"No one should fear or fail Statistics!"
So enjoy this course and enjoy your journey into this wonderful world of statistics!
Courses:
Project Coordinator - Lynda.com
Description:
From project management basics to communication and meeting leadership, you'll learn how to keep project tasks and teams on track in the most efficient ways.
Courses:
ITIL Certification Prep. - Thought Rock
Description:
ITIL is a collection of guiding principles for information technology (IT) Service Management that primarily focus on aligning the needs of businesses with specific IT services. There is no IT Service Management framework more widely recognized and valued than ITIL. This framework has been proven as highly beneficial and practical for any organization to achieve strategic objectives while reducing costs and risks. Whether you are new to IT services and would like to expand your knowledge or you have been in the industry for many years and would like to rejuvenate your IT-oriented mind, consider enrolling in an ITIL training course. Although there are several companies that offer ITIL training, not many cater to the working professional that require flexibility and at an inexpensive price.
Courses:
Project Management - Coursera Verified Specializations
Description:
4 Course verified specialization in project management principles and practices. Includes concepts such as budgeting and scheduling, initiating projects, managing risks and change, and project documentation.
Courses:
Web Design - Coursera Verified Specializations
Description:
5 Course verified specialization in web design and development. Covers the basic web development areas of HTML5, CSS3, and JavaScript. Advanced JavaScript and CSS coding concepts are covered in a responsive design section.
Courses:
Single Coursera Verified Courses
Courses:
Single Coursera Verified Courses
Courses:
Unisys Employee Courses
Courses:
BladeLogic Administration
SolarWinds Networking Tools
Comptia Security+
IBM Employee Courses
Courses:
Project Manager's Body of Knowledge Series
Maximo
Java Development
Android Development
Single Course From Central Michigan University
Courses:
Introduction to PHP and MySQL
Learning
I like to learn how things work. This sometimes results in me buying a Raspberry Pi (a mini-computer) and building some object I won't ever use, other times I end up taking a MOOC (Massively Open Online Course). More frequently it has me developing plans for fun science projects - like a couple of months ago when I built my own solar panel (It works by the way), or when I learned how to make thermite and my daughter and I used it to make glass chunks in our yard in the middle of winter; January 2018 at -5 degrees in the middle of the day.

Sometimes the things I learn have a use or purpose; I first learned Tableau, VBA, and R Programming on my own. Other times they are just fun things to do; like the above-mentioned thermite.
Educational Courses Taken Per Year

2018

9

2017

6

2016

9

2015

9

2014

6

2013

8

2012

9
Certificates of Completion
Professional Certifications
Work Samples
Scientific Research
(Master Capstone Project)
Description:
The graduate thesis paper I submitted to complete my graduate work and earn my degree. It is a study on job satisfaction of employees within the Adirondack region of New York and the Central Michigan Lower Peninsula region.

On the right, the "Job Satisfaction Impact Groups" and their overlapping areas of interaction.
PowerPoint Presentations
Description:
SlideShare is a site owned by LinkedIn (Microsoft) that allows people to share their PowerPoint presentations. I have a growing collection of presentations on SlideShare.
BI Work Samples
Description:
Sample pages and images from some Tableau and Power BI work.
*These are hosted on the Tableau public domain, embedded in this website, and tend to be a bit on the slower side
Tableau Screenshot samples (Click to View Full Size)
Power BI Screenshot samples (Click to View Full Size)
Excel
Description:
Excel templates and VBA tutorials created by me. These are hosted on my blog at Agile-Mercurial
Android Application
Description:
This is not my only Android app. This is not my best Android app. This is just the only one I ever bothered to publish in the Google Play Store and is my first and only game. The graphics are horrible, I did those myself and I am not applying to many graphics developer jobs.
Jidoka/Jidohka
Brief overview of autonomation - automated quality checks and human/automation interaction